Comfort Sleep Bellissimo Medium Mattress - Luxury Gel Collection
RRP $3,899
30%
$2,729 https://www.bedworks.com.au/1573-comfort-sleep-bellissimo-medium-mattress-luxury-gel-collection.html
Need help? Call 1800 753 293
Australia's Best Mattress
The Luxury Hotel Collection by Comfort Sleep Bedding has been consistently voted as Australia's Best Mattress for six consecutive years since 2011 by the Australian Furniture Association under the Excellence in a Sleep Set category. This award has made the Luxury Hotel Collection as the preferred mattress of Australian Casino Resorts.
Luxury Hotel Collection Bellissimo Gel Medium Luxury Mattress
The Bellissimo Gel Collection Mattress presents a beautiful range of premium, luxury mattresses that uses the best and latest in style and mattress innovation for a truly luxurious sleeping experience. The Comfort Sleep Bellissimo Gel Collection Luxury Mattress line comes in three mattress feels: Plush, Medium and Firm to suit any sleeping preference.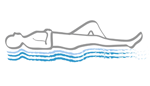 The Best Medium Mattress Comfort
The Bellissimo Medium Mattress features THREE generous comfort layers that work synergistically to give you a truly beautiful and luxurious sleeping experience.
1st Comfort Layer
A generous layer of gel-infused GelFormX memory foam provides pressure-relieving comfort. This layer moulds to the contours of your body for an extremely comfortable sleep. Likewise, the gel-infusion in the memory foam ensures higher breathability so the mattress stays cool.
2nd Comfort Layer
Coolex foam promotes air circulation and ventilation for a cool sleeping experience.
3rd Comfort Layer
High-density medium foam for optimal sleeping support with a medium feel.
A quilted layer comprising of high-density firm foam and Quiltec© tops the entire mattress for a plush and comfortable sleeping experience.

Gel Form X™ Memory Foam
The Bellissimo uses Gel Form X™ - an open-cell, gel-infused memory foam that offers pressure relief and comfort the whole night through. The foam is specially formulated to ensure higher air circulation and ventilation so the mattress is able to "breathe" and stay cooler.

ThermoSleep Technology
Comfort Sleep's exclusive Thermo Sleep Technology combines two technologies – Quiltec and Coolex foam – for a cool and comfortable sleeping experience every night.
QUILTEC Foam is a GECA certified, hypoallergenic material that replicates the benefit of wool as it adapts to your body's temperature, dissipates moisture and promotes breathability and air circulation for a dry and comfortable sleep.
COOLEX Foam is a high-density foam that features a channel cut design to promote constant air flow circulation.

Combining these two materials ensure mattress breathability and moisture dissipation thus creating a clean and healthy sleeping zone, free from mould, fungi and other nasty allergens.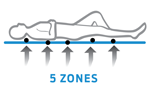 Contour TechTM 5-zone Pocket Spring System
The Bellissimo uses the Contour Tech™ 5-zone pocket spring system to provide optimum lateral support by targeting five key areas of your body.

Edge-to-Edge Support
This mattress features EDGEBOOST TM Foam Encasement for long-lasting durability.
This edge support system gives the mattress strength and support that allows you to use the entire area even to its edges without worrying about sinking down and pushing the springs out of the sides.

Zero Partner Disturbance
With the commercial grade pocket springs, this premium mattress features motion absorption for minimised partner disturbance. Movement is spread throughout the individual pocket coils so you won't feel any movement throughout the night.

CompriShield
The Luxury Hotel Collection uses mattress foams treated with CompriShield - a sustainable, bio-based microbial control solution derived from coconut oil. This treatment provides continuous microbial control in the foam. This solution is toxin-free and is completely safe for the entire family and the environment.

Environmental Choice Australia Approved
The Luxury Hotel Collection by Comfort Sleep uses a type of foam that is certified with the Good Environmental Choice Australia Label. This tells you that your Comfort Sleep mattress uses materials that comply with the strictest environmental standards, making Comfort Sleep products safer for you and better for the environment.

Only the best locally-sourced foams
The foams in the Luxury Hotel Collection by Comfort Sleep are sourced locally from Joyce Foam Products – an Australian company certified by Good Environmental Choice of Australia. This means that your Comfort Sleep uses high-quality foam that's safe and green.

Made in Australia
This mattress is 100% Australian Made. This gives you a finely crafted mattress that is made using the best Australian-sourced materials and highest industry standards.