Comfort Sleep Chiro Zone Gold 2 Sided Mattress
RRP $699 -$90
$609 https://www.bedworks.com.au/411-chiro-zone-gold-comfort-sleep-2-sided-pillow-top-mattress.html
-$90
Need help? Call 1800 753 293
The position of your spine while you sleep is crucial to your overall health. When abnormal stress is placed on your spine, tension may be caused in adjoining ligaments and muscles. Developed by the Chiropractors' Association of Australia the Chiro Zone is specifically designed for improved postural alignment and relaxation of the spinal muscles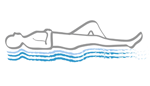 Comfort
Sleep with greater peace of mind knowing the Chiro's tempered steel spring lift mattress and wool comfort layer provides superior comfort and quality rest.

Maximum Support
With head to toe helicoils and no-roll high-tech spinal zone technology, the Chiro Zone Gold offers the highest quality support.

Long-Lasting Quality
Extend the life of your mattress with the Chiro Zones double-sided pillow top that not only enhances the comfort features of the mattress but will last twice as long as an ordinary mattress.

Healthy Sleep Zone
The Chiro's specially designed system encourages air circulation within the mattress which inhibits bacterial growth.

100% Australian Made
This mattress is 100% Australian Made. This gives you a finely crafted mattress that is made using the best Australian-sourced materials and highest industry standards.