Bachelor Custom Space Saver Timber Bed Frame
$969 https://www.bedworks.com.au/bed-frames/754-bachelor-custom-space-saver-timber-bed-frame.html?gclid=EAIaIQobChMIh8L50_np4QIVBfKPCh2rJAyZEAEYASABEgJd6fD_BwE

Superior Comfort and Quality

Great Price Guarantee
Australian Made, Hand Crafted
Need help? Call 1800 753 293
Japanese Influenced Design
The Bachelor Space Saver Custom Timber Bed Frame is a simple, Japanese influenced bed frame. A sleek and modern design makes the Bachelor Timber bed frame a nice addition to any room. A low lying frame that sits only 330mm from the ground adds to its space saving qualities.
Strong and Durable for Long Lasting Results
Extremely resistant and strong solid Australian pine slats ensure your mattress and weight is always well supported. Its strong slat structure means there is no need for an annoying centre leg giving you more storage space.
Dimensions - Sit Flush
| | | | |
| --- | --- | --- | --- |
| External Dimension | Width (W) |   | Length (L) |
| Single | 92 cm | x | 188 cm |
| King Single | 107 cm | x | 203 cm |
| Double | 137 cm | x | 188 cm |
| Queen | 153 cm | x | 203 cm |
| King | 183 cm | x | 203 cm |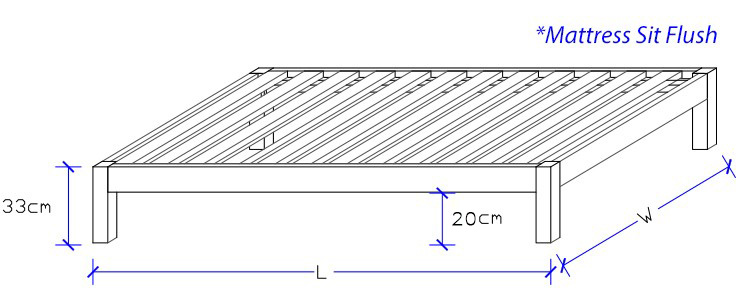 Dimensions - Sit Inside
| | | | |
| --- | --- | --- | --- |
| External Dimension | Width (W) |   | Length (L) |
| Single | 102 cm | x | 204 cm |
| King Single | 117 cm | x | 219 cm |
| Double | 147 cm | x | 204 cm |
| Queen | 163 cm | x | 219 cm |
| King | 193 cm | x | 219 cm |

Enjoy these Benefits
Self Assembled

Handcrafted in 10 days

Customised colour
Affordable price
Durability
Simple elegance