Jones Custom Upholstered Bed With Timber Frame
We are taking orders to be delivered in February 2021.
We are taking orders to be delivered in February 2021.
$2,399
-10%
$2,159 https://www.bedworks.com.au/bed-frames/custom-made-beds/custom-made-upholstered-beds/305-jones-custom-upholstered-bed-with-timber-frame.html

Superior Comfort and Quality

Great Price Guarantee
Australian Made, Hand Crafted
Need help? Call 1800 753 293
Keeping up with the Jones
Now this is an upholstered timber bed designed to fit your personality ... are you the sweet and charming type who likes dainty pastel designs? Perhaps you're a rocker who prefers clashing colours and bold patterns, or a thinker who dreams and plots in bed to sworls and storms of leather and suede. Whatever your style, the Jones Custom Upholstered Bed With Timber Frame is just the right mix of savvy and snazzy to make your statement piece in the bedroom. A high-quality square designed timber frame is backed by both a head board and foot end with fabric panels, making it easy to personalise this bed to your taste. With a massive range of fabric and leather options available, the Jones may just make you the envy of your neighbours!
Finest Quality Materials In Focus
Made from the highest quality timber and fabric options, the Jones will give you long-lasting support and comfort plus remain a stylish and eye-catching desing for years. Choose from Tasmanian Oak or pine in over 20 stain colours, and match it with fabric choices from Warwick, Zepel, or NSW Leather to suit your decor. The Jones bed frame is available in all standard sizes.
Proudly Australian-made Product
No matter how you choose to customise it, the Jones bed will maintain a sophisticated look that looks great in any bedroom. While this bed is predominantly available in Tasmanian Oak or pine, it can also be made in Spotted Gum and Blackwood. Why not contact our sales team today for a quote - 1800 940 596.
Dimensions
| | | | |
| --- | --- | --- | --- |
| External | Width (W) | | Length (L) |
| Single | 102cm | x | 203cm |
| King Single | 117cm | x | 218cm |
| Double | 147cm | x | 203cm |
| Queen | 163cm | x | 218cm |
| King | 193cm | x | 218cm |
- Headboard height from floor:
120cm
- Foot end height from floor:
50cm
- Under-bed clear space: 18cm
- Bed base height: 32cm
- Mattress sit in: 2cm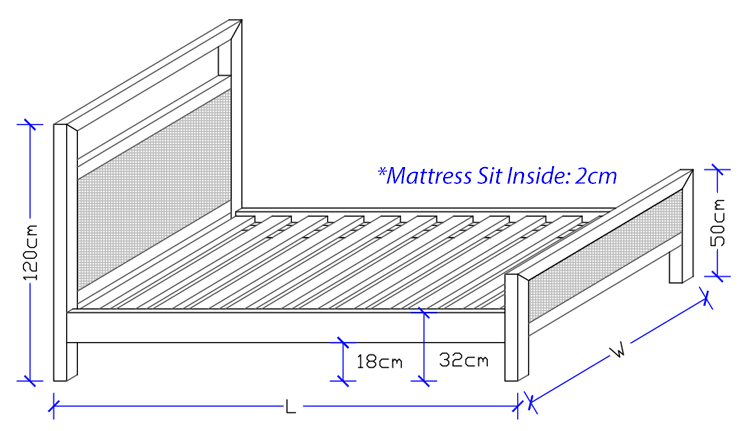 Enjoy these Benefits
Fully customisable options
Matching timber and fabric options
2-yr warranty on construction
Sleek, stylish contemporary design

Buy Bedworks quality custom-made product, backed by our worry-free 2 years guarantee.