Alfi Upholstered Slat Bed Frame
Enjoy Extra 10% Saving in EoFY Sale! Code: EOFY
Offer ends 30 June 2019
Enjoy Extra 10% Saving in EoFY Sale! Code: EOFY
Offer ends 30 June 2019
RRP $1,299 -$630
$669 https://www.bedworks.com.au/bed-frames/upholstered-beds/1961-alfi-upholstered-padded-headboard-metal-slat-bed-frame.html
-$630

Superior Comfort and Quality

Great Price Guarantee

Next Day Delivery
Need help? Call 1800 753 293
Sleep On this Sleek Slat Design
Fancy a sound night's slumber in this modern slat bed complete with a padded headboard? Look no further than the Alfi Upholstered Slat Bed Frame with padded wing headboard, available in smoke grey veneer fabric. This sleek design marries contemporary design with old-world charm in the wing headboard, creating a custom feature bed in your bedroom. Balancing on slim steel foot supports and available in queen and king-sized frames, the Alfi is suitable for spare rooms or guest accommodation where a touch of pizzaz is required. There's also room underneath the frame to store suitcases, bags, linen and other large items, perfect for travellers.
Custom Craftsmanship on Show
The Alfi's standout feature is its custom square padded wing headboard, finished in a signature smoke grey veneer upholstery. The wraparound design plus having the mattress sit-in option gives this bed frame a contemporary edge in any room where space might be an issue. Contact our sales team today to see if your new bed can be delivered tomorrow!
Dimensions
Queen: 226cmL, headboard 199W x 106H, base 165W x 35H
King: 226cmL, headboard 199W x 106H, base 195W x 35H
Clear space 18cm
Mattress sit-inside 12cm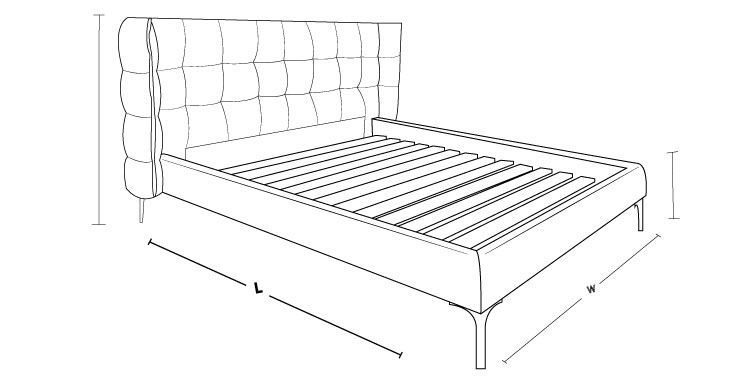 Enjoy these Benefits
Available in smoke grey veneer upholstery
Padded wing headboard
Slim metal foot ends