Palatial Plush Mattress - Luxury Hotel Collection
Need help? Call 1800 753 293

Not sure how this Mattress will feel?
Relax, we have got you covered with our 100 day risk free trial! Test out your new mattress in the comfort of your own home. If you are not 100% satisfied, simply send it back for replacement. T&C Apply
Australia's Best Mattress
The Luxury Hotel Collection by Comfort Sleep Bedding has been consistently voted as Australia's Best Mattress for six consecutive years since 2011 by the Australian Furniture Association under the Excellence in a Sleep Set category. This award has made the Luxury Hotel Collection as the preferred mattress of Australian Casino Resorts.
Luxury Hotel Collection Palatial Plush Mattress
The Palatial's five star penthouse inspired design provides a truly luxurious sleeping experience. Part of Bed Works exclusive Comfort Sleep Hotel Luxury Range you can be assured of a great night's sleep.

The Palatial Plush mattress features three luxurious comfort layers that includes a natural, gel-infused latex memory foam layer that gives you a well-supported and truly luxurious sleeping experience.
1st Comfort Layer
High Count Micro Pocket Unit for pressure relief and comfort support
2nd Comfort Layer
25mm Soft Foam Layer
3rd Comfort Layer
Provides a cool, well-supported sleep with its gel-infused latex memory foam

The Palatial Plush Mattress uses a combination of three materials that keeps the sleeper comfortably cool and dry throughout the night.
Gel-infused Memory foam ensures higher breathability and better body heat regulation.
Woolmark® Blend Knit – a fabric made from natural wool keep you warm in the winter and cool in summer, while naturally inhibiting mould, bacteria and dust mite growth.

The Quiltec® Quilting top ensures breathability, air-circulation and ventilation for better moisture dissipation.
Fresh Foam® Gel-Infused Memory Foam
Ensures higher breathability and better body heat regulation
COOLEXTM Foa
Promotes air circulation for a cooler sleep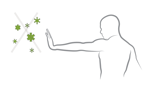 This mattress uses Purotex probiotic fabric and 100% natural latex to create a healthy sleeping zone as it defends you against asthma and harmful allergens like mould and bacteria.

The Palatial Plush Mattress uses the Contour TechTM 3-zone pocket spring system to provide optimum lateral support by targeting three key areas of your body. Pocket springs in the centre-third zone of the mattress utilises thicker coils to increase tension and provide extra central support.

This mattress features EDGEBOOST TM Foam Encasement for long-lasting durability. This provides a balanced support that extends even to the edge of the mattresses. This edge support allows you to use the full area of the mattress without worrying about sinking down and ruining the shape of the mattress.

Enjoy undisturbed sleep with motion absorption technologies that reduce motion transfer across the mattress and minimise partner disturbance.
Comfort Sleep mattress is HealthGuard certified. This gives you the ultimate protection as HealthGuard inhibits the growth of dust mites, moulds and bacteria.

Comfort Sleep uses a type of foam that is certified with the Good Environmental Choice Australia Label. This tells you that your Comfort Sleep mattress uses materials that complies with the strictest environmental standards, making Comfort Sleep products safer for you and better for the environment.

The foams in Comfort Sleep Mattresses are sourced locally from Joyce Foam Products – an Australian company certified by Good Environmental Choice of Australia. This means that your Comfort Sleep uses high-quality foam that's safe and green.

This mattress is 100% Australian Made. This gives you a finely crafted mattress that is made using the best Australian-sourced materials and highest industry standards.