Domino Essentials Dynasty Plush Mattress - A.H. Beard
Win a Better Sleep Pack and share in $120,000 of prizes, including the main cash draw of $50,000, in AH Beard's 120th birthday sale. Offer ends November 25, 2019
Win a Better Sleep Pack and share in $120,000 of prizes, including the main cash draw of $50,000, in AH Beard's 120th birthday sale. Offer ends November 25, 2019
RRP $899 -$270
$629 https://www.bedworks.com.au/mattresses/mattresses-by-type/eco-friendly-mattresses/1086-domino-essentials-dynasty-plush-mattress.html
-$270
Need help? Call 1800 753 293

Not sure how this Mattress will feel?
Relax, we have got you covered with our 100 day risk free trial! Test out your new mattress in the comfort of your own home. If you are not 100% satisfied, simply send it back for replacement. T&C Apply
Australian-Made Quality Product  
Rest easy knowing the Domino Essentials Dynasty Plush Mattress is an Australian-made and owned mattress. Pillow-top layers of Performa Foam, Stretch Knit Fabric and Ultra-loft Quilting ensure a super comfortable sleep every day of the year. Performa and latex ingredients help relieve built up tension from aching joints and tired muscles making for an extremely comfortable and luxurious sleep.
Great Support for Healthy Bodies
Conforma coil provides increased support for correct sleeping posture and 3-Zone graduated spring tension is great for better overall health.Profile Edge –to- Edge Support delivers extra support and comfort with a larger sleep surface.
Healthy Sleep Zone
Endorsed by the National Asthma Council of Australia, this mattress contains anti-allergenic and anti-bacterial properties that increase air circulation throughout the mattress, leaving no sweat residue and bacterial growth and creating a healthy sleeping zone. And no-turn technology means you never have to flip your mattress again!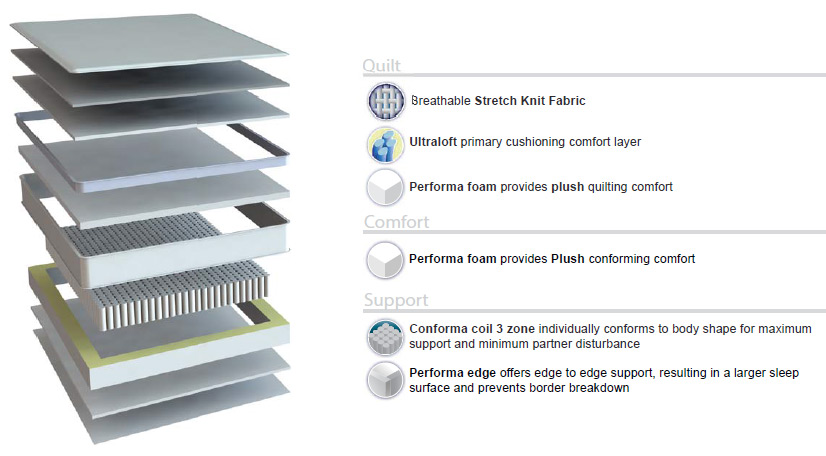 Product Features
Available in All Sizes
Suitable for slat and platform beds 
10-year manufacturer warranty