Long Horn Dual Double Sofa Bed
$3,439 -$687
$2,752 https://www.bedworks.com.au/sofa-beds/1823-long-horn-dual-double-sofa-bed.html
-$687
Need help? Call 1800 753 293


Stunning Sofa Bed
The Long Horn Dual Double Sofa Bed is a stunning Danish-designed sofa bed that perfectly combines luxury, style and comfort into one sofa bed. This deluxe 3-seater sofa features a stylish cubist-inspired style with a unique interlocking design. Enjoy fine comfort with the LongHorn Dual's plush cushions, tufted seat and backrest. The sofa bed is then supported by a pair of stainless steel legs in the front and a set of castor wheels in the back for easy movability. Create a stunning living space and maximise your area with this beautiful Danish-designed sofa bed
Unparalleled comfort and luxury
This deluxe sofa bed brings to you unparalleled comfort & luxury with its bevy of comfort features. Equipped with a recliner function, get to adjust the sofa bed's reclining angle and choose from 3 levels - sofa, relax or bed positions. This recliner function makes this sofa bed the perfect after-hours chill spot where you can relax and de-stress after a long day. For added comfort, this sofa bed uses a system of commercial-grade pocket springs and high-grade foam, thus creating a sleeping and seating surface that offers the utmost comfort and support.
What sets this iteration of the LongHorn apart is its built-in surface topper. This additional plush layer on top of its surface provides plush, softer support that greatly improves the seating and sleeping experience.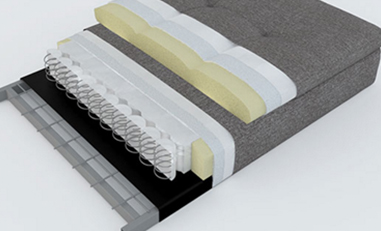 iStyle Dual Pocket Spring Mattress
This sofa bed uses the iStyle Dual Pocket Spring Mattress. A high resilient mattress with a pocket spring core surrounded by two layers of breathable carted cotton on top and one layer underneath. The Dual mattress ensures an extra supportive surface with its 5 cm mattress pillow on the Istyle pocket spring mattress (6-12cm).
Transforms into a Double Size Bed
This premium sofa bed transforms into a double bed with ease. With its click-clack mechanism, the backrest easily reclines and interlocks to the seat seamlessly so you get into the bed configuration in a matter of seconds.
The Long Horn Dual Sofa Bed beautifully combines functionality, style and comfort into one beautiful sofa bed. Let this sofa bed help you maximise your living space with its smart, versatile features.
Measurement
Sofa
Bed
Depth
114 cm
140 cm
Height
79 cm
37 cm
Width
210 cm
200 cm
Sofa Bed Depth
63 cm

Maximum Supported Weight:
330 kg