Eivor 140 Double Sofa Bed - Innovation Living
RRP $3,599
-15%
$3,059 https://www.bedworks.com.au/sofa-beds/1957-eivor-140-double-sofa-bed-innovation-living.html
Need help? Call 1800 753 293


Smart, Stylish Bed-Inside Sofa
Welcome to the Eivor 140 Double Sofa Bed from Innovation Living (model shown is covered in fabric 519 elegance petrol ), a multifunctional sofa bed based on a bed-inside mechanism and constructed on stylish wooden legs. The comfortable high-quality multi-pocket spring mattress with 650 springs/ m² is suitable for everyday use, without compromising Eivor's elegant design. As the mattress is hidden under the Eivor's seat, this comfortable multi-pocket spring mattress is suitable for everyday sleeping. Plus, the double bed measures 140x195cm, which is wider and longer than your average bed-inside sofa. Available in over 30 fabric colourways including leather-look and patterned options, why not design your own custom-made sofa bed today?
Comfortable, Elegant Design to Chill On
This premium bed-inside sofa bed is built to include amazing comfort features. It features an innovative combination of high-quality, freon-free foam and multi-pocket springs. The mattress fibre is supported by deluxe 650 springs/ m² pocket springs, to give the best-quality comfort from a sofa bed made with a high-quality metal bed base. What's more, the Eivor sofa bed comes with plush cushions and can also be paired with an optional headrest (sold separately). It's the sofa bed that makes a great chillspot during me-time.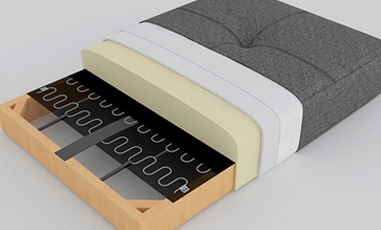 Chemically Sound Construction with Freon-free Mattress
At INNOVATION LIVING we strive to minimise our carbon footprint in a cleaner, greener manufacturing process. That is why we use the freon-free mattress on the Eivor sofa bed to ensure that you have a safe and toxin-free sleeping and seating area. The freon-free mattress is supported by a no-zag pocket spring system to provide you with proper support without sacrificing comfort.
Smart, stylish and compact, this sofa bed is a perfect addition to your living room or rumpus room.Try the Eivor out today!
Sofa Segues into Double Size Bed
This bed-inside sofa bed can easily be transformed into a double size sofa bed. The double bed measures 140x195cm, making it both wider and longer than your average bed-inside sofa. Simply pull the front seat forward and flip the backseat to make this 3-seater sofa into a comfortable double size bed.
As this is a custom-designed model delivered flat-packed and unassembled, allow up to 20 weeks from order to delivery for your Eivor 140 Double Sofa Bed. Assembly available at extra cost on delivery from our warehouse.
Measurements
Sofa
Bed
Depth
101 cm
210 cm
Height
75 cm
55 cm
Width
159 cm
140 cm
Sofa Seat Depth
61 cm