Display all pictures
Frode Double Sofa Bed - Innovation Living
Colour Choice- Select any color you like and will deliver at the end of November 2021.
Orders Must be Entered Before 30/08/21 2021
Innovation Living
Colour Choice- Select any color you like and will deliver at the end of November 2021.
Orders Must be Entered Before 30/08/21 2021
Innovation Living
$2,299 -$459
$1,840 https://www.bedworks.com.au/sofa-beds/2334-frode-double-sofa-bed-innovation-living.html
-$459
Need help? Call 1800 753 293


The need for a design to accommodate small spaces and yet still be stylishly practical is embodied in the Frode Double Sofa Bed. The Scandinavian inspired sofa bed can accommodate nearly any interior or compact living space whilst still being able to be transformed into a luxurious and spacious double bed. The Frode Double Bed Sofa is perfect not only for sleeping but lounging while reading, having breakfast in bed or just generally socialising.
This beautiful piece of furniture is perched on light oak stem legs and features an upholstered seat and backrest which comes in various colours. This light and comfortable sofa bed is the perfect addition to any contemporary space.
Key Features
Steel frame with timber legs
Pocket sprung seat
Available in a range of fabrics
Nordic-inspired design
5 years warranty
Dimension
| | | |
| --- | --- | --- |
| | Sofa | Bed |
| Depth | 105cm | 140cm |
| Height | 83cm | 48cm |
| Width | 200cm | 200cm |
Maximum Supported Weight:
330 kg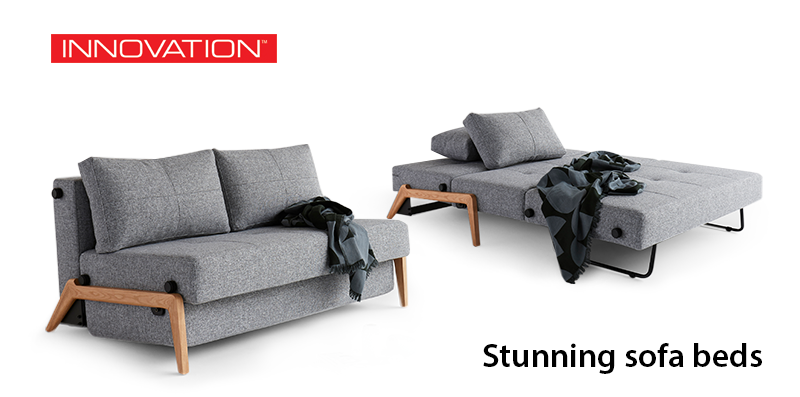 Premium Sofa Beds in Sydney
Innovation Living Sydney brings to you a wide range of modern sofa beds that helps you transform your space. Sofa Beds are a perfect, multi-functional addition to any room as it turns your living room or study into an extra room for visiting guests. In a matter of seconds, you get to convert stylish sofas into a comfortable bed for your loved ones. When not in use, they add character, style and personality to your living spaces. These Danish-designed sofa beds combines a bevy of smart functionalities and high style into one premium sofa bed that lasts.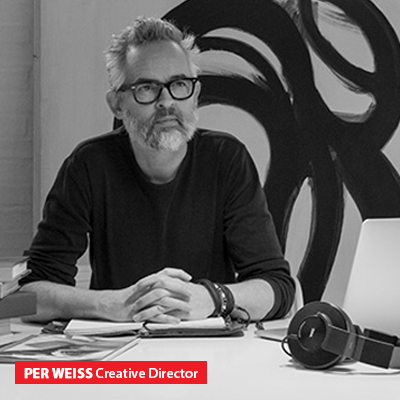 "Form and function must go hand in hand to create innovative and [sic] durable designs for everyday use" – this is the guiding principle that has been central to each Innovation Living sofa bed. Designed by a team of artists headed by critically-acclaimed Danish designer – Per Weiss, each sofa bed from Innovation Living is thoughtfully styled and conceptualised to bring to you the best sofa bed that helps you do more with your space. .
Embrace smart living and create a stunning stylish space with one of the best sofa beds in Sydney!
Why Buy Innovation Living Sofa Beds?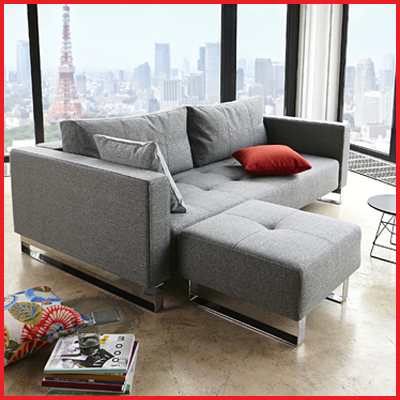 Chic and Stylish Sofa Beds
Nothing beats the chic style of these Danish-designed sofa beds. These premium sofa beds take inspiration from mid-century modern styles and Scandinavian inspired styles and reinvent them to match your modern interiors. What's more, these sofa beds are designed to be compact space savers to lets you expand your living space.
Wide Range of Sofa Bed Styles
We have a wide variety of sofa bed styles to fit your modern lifestyle. We carry armchairs that turns into single size beds, 3-seater sofas that turns into a double size bed or even a chaise lounge that instantly transforms into a queen size bed. We have sofa bed with arms, sofa bed without arms, sofa beds with wooden legs and other sofa beds to choose from.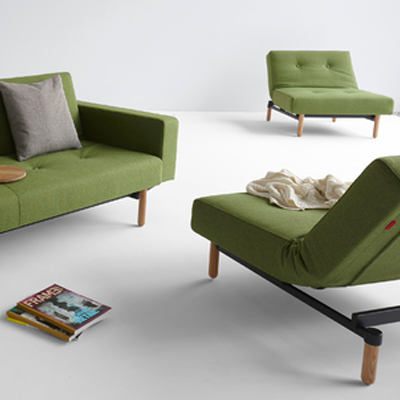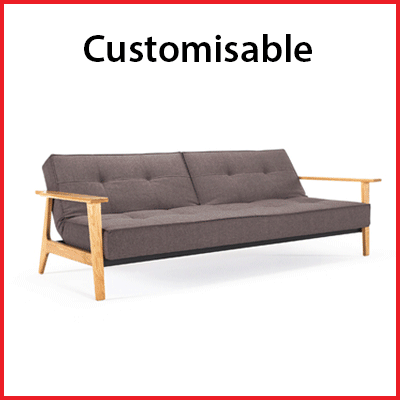 Customisable Sofa Beds
Our sofa beds can be customised to complement your lifestyle. Our wide range of sofa beds come in a variety of colours and fabric type to match your interior. What's more, each sofa bed model carries various customisation options so you're free to change the leg, arms or upholstery options of the sofa bed so it perfectly fits your needs.
Premium Sofa Bed Materials
All our sofa beds are made with premium materials for durability and quality that lasts. We use vibrant commercial-grade upholstery that's stylish, durable and fade resistant. For the sofa bed legs and arms, we use quality timber and metal components that are treated and tested for quality. Our sofa beds are then framed with powder-coated aluminium frame to provide added strength and support to the sofa bed.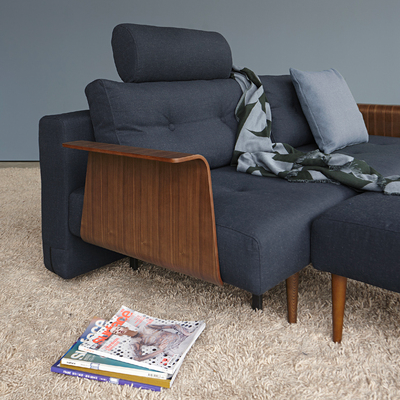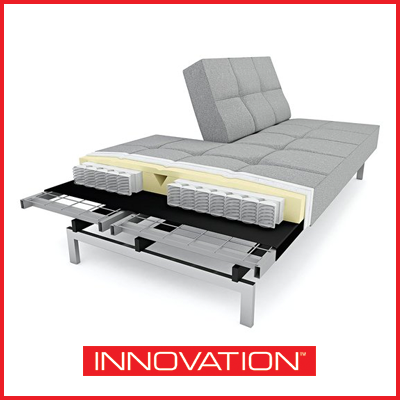 Unparalleled Comfort
Our sofa beds use a combination of high grade foam and pocket springs to provide you with the best sleeping and seating comfort. Our foam delivers the right amount of firmness for pressure relieving comfort. Meanwhile, our pocket spring system provides optimum lateral support when sleeping so your body is well-supported for a good night's sleep.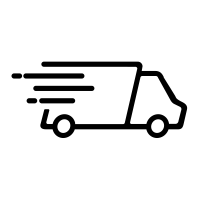 Quick Shipping
Get your sofa bed fast! We offer Quick Shipping to all Metro Cities of Australia.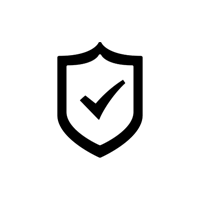 5-year Warranty
To ensure that you get to enjoy your sofa bed, we provide a 5-year limited warranty on your sofa beds for your peace of mind.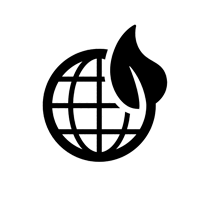 Eco-Friendly
To lower our carbon footprint, We recover and apply excess foam in the cotton cores of our Classic mattresses.

GUARANTEE AND MAINTENANCE FOR INNOVATION LIVING FURNITURE
| | | |
| --- | --- | --- |
| ITEMS | WARRANTY PERIOD | EXAMPLE OF SERIOUS QUALITY PROBLEM |
| METAL PARTS | 5 YEARS | Welding parts break or rust on the surface |
| MATTRESS | 5 YEARS | Serious dent on the mattress |
| WOOD PARTS | 5 YEARS | Breaking of parts |
| TEXTILE | 5 YEAR | Serious abrasion of the textile |
| EXTERNAL HINGES | 5 YEARS | Gearing not functioning |
If customers have any quality problems within the above-mentioned warranty period, please send us photos showing the defects. If it is determined upon examination that it is manufacturer's defect we will send replacement parts free of charge with your next container.
If defects are reported after the warranty period, we will send replacement parts at our EX Works price with your next container.
Sofa beds & chairs warranty
All our sofa beds and chairs are continuously tested against our high internal standards as well as they are rigorously being tested by independent accredited labs such as SGS, Intertek and Bureau Veritas to comply with industry standards for quality and durability.
How long is the warranty valid?
You will have a 5-year warranty.
What is covered under this warranty?
This warranty covers defects in materials and workmanship in the following components of the sofa beds and chairs:
Gears and mechanisms
Wooden frames
Metal frames
Spring-, latex-, or foam cores of sofa beds and chairs
This warranty applies to private/residential use only.
How do I prove my claim?
We need a copy of the original purchase receipt as proof of your purchase together with photos/videos and a description that clearly demonstrate the defect.
Finally, we need a photo of the product label that is placed on the inside of the product. Please find the exact position of this label in the assembly instruction for your products (assembly instructions can always be found via our website here).
What will Innovation Living do to correct the problem?
The quality department of Innovation Living will examine the claim and decide, at its sole discretion, if it is covered by the warranty and subsequently either if it should be repaired or replaced.
If the claim is covered by the warranty, Innovation Living will cover the costs of spare parts or provide an equivalent replacement, if the item is no longer available. Most of our sofas are sold in separate parts, and we will do our utmost to limit replacements to the relevant parts due to both environmental and economic concerns.
What is not covered under this warranty?
This warranty does not apply to products that have been stored or installed incorrectly, used inappropriately, abused, misused, altered, or cleaned with wrong cleaning methods or cleaning products.
This warranty does not cover normal wear and tear, cuts or scratches, or damage caused by impacts or accidents.
This warranty does not apply if the product has been placed outdoors or in a humid environment.
This warranty does not cover consequential or accidental damage.
MAINTENANCE INSTRUCTIONS ON ALL PRODUCTS
Avoid placing your furniture in direct sunlight as this may cause materials to fade or crack. Direct sunlight includes sunlight coming through windows
Do not place your furniture too close to a heater as this may distort the material or surface finish.
Do not place your furniture directly against a wall.
Colored textiles may come off
Rotate cushions regularly to even wear and fading.
Always keep the room in which your furniture is placed ventilated for normal humidity.
Innovation Living furniture is not warranted for outdoor use. Continual exposure in the damp or wet environment will cause corrosion.
Always operate gearing mechanisms by applying pressure evenly and avoid any contrary pressure.
Rotate cushions regularly to even wear and fading.
Leather Look textiles
For basic cleaning, please use vacuum or lightly brush the furniture to remove dust and grime.
To remove light spots, please apply lukewarm soapy water only – then rinse with cold water.
Do not under any circumstances use any cleaning agents stronger that mild water-based detergent as it will make the surface of the fabric crack and peel.
Do not cover your sofa bed with blankets, sheets or similar for longer periods as the sofa and the cover needs regular ventilation to avoid the fabric from cracking and peeling
Leather textile cannot withstand cuts/scratches with knives, scissors, keys, animal claws, etc.
Natural materials - wood and leather
Several Innovation Living models have wooden legs and/or arms. As wood is a living natural material that continues to work overtime, its color and surface change according to the use of the furniture. Wood must be protected from direct sunlight to reduce fade. Also, leather will fade just like other natural materials being exposed to sunlight and high heat. Consequently, furniture should not be exposed to direct sunlight or direct heat from heaters or other heat sources over longer periods of time. Generally, natural leather lasts longer if it is cleaned and maintained regularly. Use cleaning agents intended for leather furniture only.
Other textiles
For basic cleaning, please vacuum the furniture to remove dust and grime.
If your furniture is stained with beverages, food or the like, immediately wipe as much off as possible using a clean cotton cloth. If a stain remains, apply mild detergent foam with a soft brush or sponge in circular motions. The clean spot can be dried with a hair dryer using warm air only. Vacuum your furniture when the clean spot is dry. Remember to always pre-test on a small area not too obvious to the eye.
For tougher stains such as blood, oil, ink etc., please consult a professional dry cleaner.
Metallic surfaces
Dust regularly with a soft cloth.
Never use scouring agents on metallic surfaces.
Repair damaged surfaces immediately to prevent corrosion.
Chrome and stainless steel must be treated and cleaned with a suitable cleaning agent.
Innovation Living mattresses
Our mattresses are a further development of the traditional Japanese cotton mattress. By combining the qualities of the classic natural mattress with modern techniques and materials, we are creating healthy and comfortable mattresses for your home.
Innovation Living's mattress range includes several options with various comforts, each a unique combination of layers and materials. This offers an optimal choice for various needs and user types. Some Innovation Living mattresses feature cotton layers. Cotton is a naturally breathable material that helps the body adjust its temperature which is vital for proper sleeping. The mattresses compositions, unique build and flexible materials makes them ideal to use in sofa beds and beds with elevation.
For mattresses with many cotton layers it is recommended to beat the mattress in order to air and even out the fillings. This will help keep the mattress in shape and further maintain its level of comfort.
Always keep the room in which your furniture is placed ventilated for normal humidity, as high humidity will reduce the durability and comfort of the mattress. Mattresses with several layers of cotton can possibly cast off a characteristic cotton odor. Daily ventilation will cause it to disappear within approximately 14 days. Contact your local Innovation Living dealer for further information about maintenance.
Innovation Living cushions
Our range of cushions are consisting of a mix of feather- and polyester fillings. These are combined to ensure the best back support and comfort. All cushion covers can be removed and cleaned. Please consult a professional dry cleaner.
To facilitate transportation, we have vacuum packed your cushions. This makes the filling look less plump. To get your cushions in shape, please remove the plastic and fluff up the cushion until the filling is plump and stretchy. If needed, repeat this a couple of times over the next few days. Regulate the corners of the cushion so that the filling is evenly spread; lastly you put the cushion into the cover.
Remember to fluff up the cushion regularly to maintain its shape. Keep the room and cushions ventilated to avoid humidity and thus extend the durability of your cushions. our support and cooperation!
PLEASE NOTE: all Innovation Living furniture should be kept in living areas with normal temperature and humidity, should not be exposed to strong sunlight and other kind of light, and finally, please keep sharp tools and animal claws off of the furniture. All products (unless specially required by the customers) are non fire-retardent products, so please do not expose the furniture to fire. All furniture come with assembly instructions in the boxes together with the fittings needed to assemble the furniture. Please open the boxes carefully, please do not use knives or scissors, and install the sofa according to the instructions.
In case of any questions, please contact your local dealer or contact us through our website www.innovationliving.com
Thank you for your support and cooperation!