Zeal Day Bed with Laser Leg - Innovation Living
Colour Choice- Select any color you like and will deliver at the end of November 2021.
Orders Must be Entered Before 30/08/21 2021
Colour Choice- Select any color you like and will deliver at the end of November 2021.
Orders Must be Entered Before 30/08/21 2021
$1,499 -$130
$1,369 https://www.bedworks.com.au/sofa-beds/2627-zeal-day-bed-with-laser-leg-innovation-living.html
-$130
Need help? Call 1800 753 293

Add a touch of style to your home
With its stylish, ultra-modern and unique design, the Zeal Day Bed is a great addition to your home. Quality upholstery, a sturdy steel frame and boasting pocket springs for extra comfort, the Zeal Day Bed not only delivers on looks but is big on practicality too.
The Utmost Convenience
It takes only seconds to convert into a comfortable bed for guests; the rest of the time it is a stylish addition to your living room. It folds out into a spacious, comfortable bed so you can accommodate guests or lounge about during the day without sacrificing any style or elegance.
Fully Customisable
Not the colour or fabric you're looking for? We can custom make your sofa bed in line with your individual requirements.
Enjoy these Benefits
Sturdy Steel Frame
Pocket Sprung Seat for extra comfort
Three adjustable positions in each end
Available in Deluxe Compatible Innovation Fabrics
Lifetime warranty on click clack
Get next day delivery
All products in stock are eligible for Sydney CBD next day delivery. Ask us if we can deliver your Zeal Day Bed by tomorrow.
Dimensions

Maximum Supported Weight:
220 kg
Clearspace:

20cm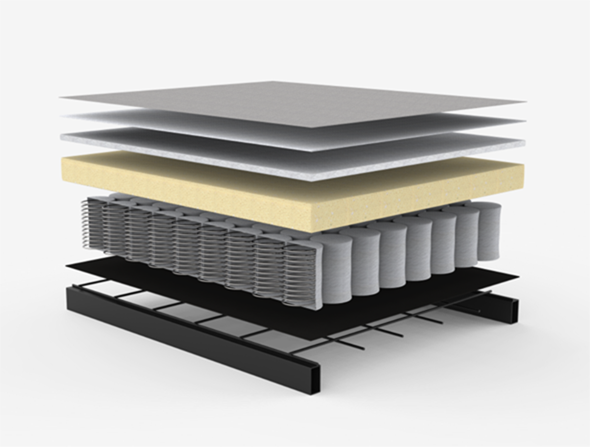 The individual pockets in the Zeal provide support to each individual when pressure is applied, which ensures better support. This is included for a seating and sleeping position
The high resilient foam casing contributes to a breathable mattress while providing soft-top support.