Bragi Chaise Sofa Bed With Side Table - Innovaiton Living
Enjoy Extra 10% Saving in EoFY Sale! code EOFY
Enjoy Extra 10% Saving in EoFY Sale! code EOFY
RRP $4,499
-5%
$3,352 https://www.bedworks.com.au/sofa-beds/sofa-bed-size/double-sofabeds/1775-bragi-chaise-sofa-bed-with-side-table-innovation-living.html
Need help? Call 1800 753 293

Multi-functional Sofa Bed
The Bragi Chaise Sofa Bed with Side Table is a multifunctional sofa bed with a myriad of smart features. This 3-seater chaise lounge sofa bed comes with double-stitch embellished pillows for a truly comfortable sitting experience. An optional headrest may be purchased to make this chaise sofa bed the ultimate chill spot. For added functionality, a built-in lacquered oak side table is included. Smart and versatile, this all-in-one sofa bed helps you maximise your living space. 
Best Sofa Bed for sitting and sleeping 
This premium sofa bed offers you the best sitting and sleeping experience, thanks to its system of high grade foam and pocket springs. The combination of these materials create a surface that offers the utmost comfort and support for sleeping or sitting.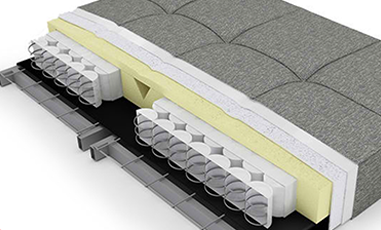 iStyle Pocket Spring Mattress
This sofa bed uses the iStyle Pocket Spring Mattress. This premium mattress system is made of a pocket spring core surrounded by layers of high-grade foam casing. The mattress is supported by a rigid metal frame for durability that lasts.  
Transforms into a Double Size Bed
Designed by critically-acclaimed Danish designer Per Weiss, this sofa bed can easily transform into a full size double bed (!40cm X 200cm) in three simple steps. To ensure that you are well-supported whilst sleeping or seating, this sofa bed is framed and supported using matt black steel frame for durability that lasts.
Measurement

 
Sofa
Bed
Depth
181 cm
228 cm (w/chaise)
 
Height
65 cm
38 cm
Width
265 cm
265 cm
Sofa Seat Depth
228 cm
(w/ chaise)