Cassius Sleek Double Sofa Bed with Chrome Legs
Colour Choice- Select any color you like and will deliver at the end of November 2021.
Orders Must be Entered Before 30/08/21 2021
Colour Choice- Select any color you like and will deliver at the end of November 2021.
Orders Must be Entered Before 30/08/21 2021
$3,699 -$700
$2,999 https://www.bedworks.com.au/sofa-beds/sofa-bed-size/double-sofabeds/1822-cassius-sleek-double-sofa-bed-with-chrome-legs.html
-$700
Need help? Call 1800 753 293


Stunning Double Sofa Bed
The Cassius Deluxe Double Sofa Bed with Chrome Legs flaunts a stunning design with its impressive mid-century modern aesthetic. This 3-seater sofa bed with arms features sleek lines that are further complemented by a pair of stylish chrome legs. With a bevy of vibrant and fade-resistant upholstery options, get to create a sofa bed that fits well with any interior style. Adding a definitive style to any room, this sofa bed is the perfect piece to help you expand any small living space.
Simply Comfortable Sofa Bed
This deluxe sofa bed is the perfect after-hours chill spot, with its extra plush cushions and optional headrest (sold separately). An innovative system of high-grade foam and pocket springs is used so you get exceptional comfort and support whilst sleeping or sitting.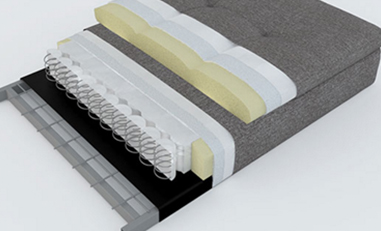 iStyle Dual Pocket Spring Mattress
This sofa bed uses the iStyle Dual Pocket Spring Mattress. A high resilient mattress with a pocket spring core surrounded by two layers of breathable carted cotton on top and one layer underneath. The Dual mattress ensures an extra supportive surface with its 5 cm mattress pillow on the Istyle pocket spring mattress (6-12cm).
Converts to a Double Size Bed
This 3-seater sofa bed easily turns into a double size bed in a few simple steps. Simply lift and slide the seat and flip the backrest of the sofa to get a double size pocket spring bed in a matter of seconds.
Smart, stylish, and compact, this sofa bed is a perfect addition to your living room or rumpus room.
Maximum Supported Weight:
330 kg