Idun Deluxe Double Sofa Bed - Innovation Living
Colour Choice- Select any color you like and will deliver at the end of November 2021.
Orders Must be Entered Before 30/08/21 2021
Colour Choice- Select any color you like and will deliver at the end of November 2021.
Orders Must be Entered Before 30/08/21 2021
$3,699 -$700
$2,999 https://www.bedworks.com.au/sofa-beds/sofa-bed-size/double-sofabeds/1945-idun-deluxe-double-sofa-bed-innovation-living.html
-$700
Need help? Call 1800 753 293


Made from the Finest Quality Materials for Lasting Quality
Built with the finest quality materials the Idun Deluxe sofa bed is made to last, offering years of durability. The Idun Deluxe is great for providing extra sleeping space without crowding your living room, its stylish and contemporary design means its practicality doesn't jeopardise its appearance and visual appeal.
The premium quality comfort and durability
Enjoy fine quality comfort with this deluxe sofa bed. A system of high-grade foam and pocket springs are used to ensure that you get the best seating or sleeping experience possible. When converted into a bed, you'd enjoy sleeping in this sofa bed as it gives you the same comfort and support that you get when sleeping in a full-fledged mattress. The sofa bed's comfort features are then supported by a matt black steel frame to ensure strength and durability that you can rely on.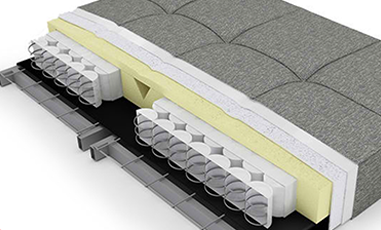 iStyle Pocket Spring Mattress
This sofa bed uses the iStyle Pocket Spring Mattress. This premium mattress system is made of a pocket spring core surrounded by layers of high-grade foam casing. The mattress is supported by a rigid metal frame for durability that lasts.
Double Size Sofa Bed
It takes only seconds to convert into a comfortable double bed for guests; the rest of the time it is a stylish addition to your living room. You can accommodate guests or lounge about during the day without sacrificing any style or elegance.
Smart, stylish and functional, this sofa bed is a great investment that is ideal for your apartment.
Measurement
Sofa
Bed
Depth
100 cm
140 cm
Height
80 cm
39 cm
Width
242 cm
200 cm
Sofa Seat Depth
50 cm

Maximum Supported Weight:
330 kg