Cubed 90/140/160 Sofa Bed with Alu Leg - Innovation Living
$2,599
-15%
$2,209 https://www.bedworks.com.au/sofa-beds/sofa-bed-size/double-sofabeds/2377-cubed-90140160-sofa-bed-with-alu-leg-innovation-living.html
Need help? Call 1800 753 293


Best Selling Sofa Bed Online
The Cubed 90 Deluxe Single Sofa Bed is a compact sofa bed that brings together an ultra-modern feel. This single-seater sofa bed features a luxuriously contemporary design with its iconic chrome or wooden legs, thus adding to the style vibe of your room. With a wide range of upholstery fabrics to choose from, make this multi-functional sofa bed is the perfect addition to your living space.
The Cubed 140 Double Sofa Bed presents a stylish, iconic design that makes it one of our best-selling sofa beds online. This 2-seater model features an armless design for a chic minimalist look and comes with a variety of premium fabric and leg options to choose from. Create a stylish area and maximise your space with this one of a kind deluxe sofa bed!
The Cubed 160 Queen Sofa Bed is one of our best selling sofa beds online. Part of the Stylish Cubed range, this three-seater sofa bed features an ultra-modern design and can be customised with a number of wood or metal leg options as well as a myriad of fashionable fade-resistant fabric. A perfect combination of style and function, expand and maximise your living space with this luxurious sofa bed.
Fine Quality Comfort
This compact sofa bed is finely built to give you the best seating and sleeping experience. A system of high-grade foam and pocket springs is used for optimal support whether you are sleeping or sitting. Meanwhile, a structure of mat steel frame is used for strength and durability that lasts.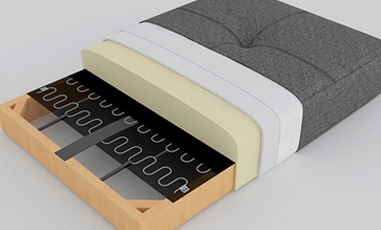 Freon-free Mattress
We strive to minimise our carbon footprint for a cleaner, greener manufacturing process. That is why we use a freon-free mattress on this sofa bed to ensure that you have a safe and toxin-free sleeping and seating area. This freon-free mattress is supported by a no-zag pocket spring system to provide you with proper support without sacrificing on comfort.
Transforms into a Double Size Bed
This modern sofa bed can easily be transformed into a double size bed in a matter of seconds. In three simple steps, you get comfortable, double-sized bed with a pocket spring mattress. A bedding box is built-in to the sofa bed so you get extra storage space to store your beddings, pillows and other sleeping essentials when not in use.
This armless version of the Cubed 90/140/160 is a perfect addition to a studio apartment, your rumpus room or even as an extra bed for visiting guests.
Measurement for Cubed 90 sofabed
| | | |
| --- | --- | --- |
| | Sofa | Bed |
| Depth | 98 cm | 200 cm |
| Height | 79 cm | 38 cm |
| Width | 98 cm | 90 cm |
| Sofa Seat Depth | 51 cm | |



Measurement for Cubed 140 sofabed
| | | |
| --- | --- | --- |
| | Sofa | Bed |
| Depth | 96 cm | 200 cm |
| Height | 78 cm | 37 cm |
| Width | 147 cm | 140 cm |
| Sofa Seat Depth | 51 cm | |



Measurement for Cubed 160 sofabed
| | | |
| --- | --- | --- |
| | Sofa | Bed |
| Depth | 98 cm | 200 cm |
| Height | 79 cm | 38 cm |
| Width | 168 cm | 160 cm |
| Sofa Seat Depth | 51 cm | |