Odin King Single Sofa Bed - Innovation Living
Enjoy Extra 10% Saving in EoFY Sale! code EOFY
Enjoy Extra 10% Saving in EoFY Sale! code EOFY
RRP $1,599
-5%
$1,519 https://www.bedworks.com.au/sofa-beds/sofa-bed-size/king-single-sofabeds/1781-odin-king-single-sofa-bed-innovation-living.html
Need help? Call 1800 753 293

Modern Danish Designed Sofa Bed
The Odin King Single Sofa Bed with Oak Legs presents flaunts a grand stylish vibe despite its sleek, minimalist style. This 3 seater model features horizontal panel emebellishments in the seat and back rest and is paired with lacquered oak legs. Compact and stylish, this space saving sofa bed helps sets off a distict Danish vibe that adds character to any room. 
Smart Comfort Features
This premium sofa bed packs in a variety of smart comfort features to make this the perfect sofa bed for you. A combination of high grade foam and pocket springs are used to provide a well-supported sleeping and seating experience. Meanwhile, the sofa bed's recliner function allows you to adjust the back rest into three angles: sofa, recline and flat, thus giving you an all-in-one furniture for utmost comfort.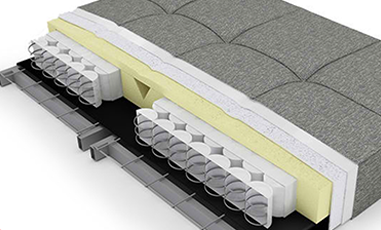 iStyle Pocket Spring Mattress
This sofa bed uses the iStyle Pocket Spring Mattress. This premium mattress system is made of a pocket spring core surrounded by layers of high-grade foam casing. The mattress is supported by a rigid metal frame for durability that lasts.  
Transforms into a King Single Mattress
This multifunctional sofa bed can easily be converted to a king single size bed. With its clic-clac mechanism, instantly turn the sofa into a bed with just a simple click. 
This variation is ideal for living room relaxation or as an addition to your guest room or study for visiting guests.
Measurement

 
Sofa
Bed
Depth
96 cm
126 cm
 
Height
83 cm
44 cm
Width
206 cm
206 cm
Sofa Seat Depth
74 cm