Magni Chaise Queen Sofa Bed
Enjoy Extra 10% Saving in EoFY Sale! code EOFY
Enjoy Extra 10% Saving in EoFY Sale! code EOFY
RRP $6,399
-5%
$4,022 https://www.bedworks.com.au/sofa-beds/sofa-bed-size/queen-sofabeds/1818-magni-chaise-queen-sofa-bed.html
Need help? Call 1800 753 293

Deluxe Chaise Queen Sofa Bed
The Magni Chaise Queen Sofa Bed presents a grand addition to any living space with its stunning design and top-notch comfort features. This deluxe 5-seater sofa bed with plush upholstered arms features a sleek minimalist style that works well with any interior design style. The built-in chaise lounge makes this the perfect after-hours chill spot where you can raise your feet up and simply relax.
Make this sofa bed truly your own with a myriad of vibrant upholstery options to create the perfect sofa bed for your living space. 
Luxurious Comfort Features
This deluxe sofa bed with chaise lounge is one of the most comfortable sofa beds of the entire Innovation living range. Its seat pads and back cushions are feather filled to give you a plush and comfortable seating and sleeping surface. Meanwhile, a system of high-grade foam and pocket springs are utilised to provide you with optimum comfort and support whether as a pocket spring bed or as a sofa.  For added comfort, pair this versatiles sofa bed with the optional head rest (sold separately) to create the ultimate chillspot for your and your loved ones. All of these high-end comfort features make this sofa bed the best addition to your living room.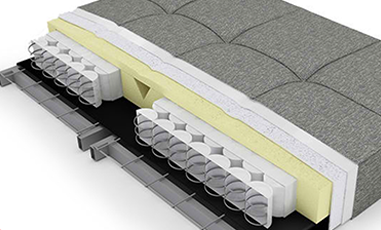 iStyle Pocket Spring Mattress
This sofa bed uses the iStyle Pocket Spring Mattress. This premium mattress system is made of a pocket spring core surrounded by layers of high-grade foam casing. The mattress is supported by a rigid metal frame for durability that lasts.  
Turns into a Queen Size Pocket Spring Bed
Transform this sofa innto a pocket spring bed in a matter of seconds. With just a few simple steps, your compact sofa bed turns into a comfy queen size pocket spring bed. A queen size bed is the perfect mattress size to provide your guests with a spacious and comfortable bed when visiting. 
Featuring quality, innovation and comfort, the Magni presents an impressive sofa bed of magnificent proportions. The Magni is a great addition your living room or as an addition to your den or private study.
Measurement

 
Sofa
Bed
Depth
108 cm
170 cm (including chaise)
 
Height
74 cm
41 cm
Width
350 cm
350 cm
Sofa Seat Depth

70 cm/ 144cm including chaise