Ghia Single Sofa Bed with Black Leg - Innovation Living
Low instock. We're taking orders on custom colours to be delivered by the end of February. Closing date on 30/11.
Low instock. We're taking orders on custom colours to be delivered by the end of February. Closing date on 30/11.
$1,779 -$355
$1,424 https://www.bedworks.com.au/sofa-beds/sofa-bed-size/single-sofabeds/2201-ghia-single-sofa-bed.html?gclid=EAIaIQobChMIwPu5t4qs3AIVAQAAAB0BAAAAEAAYACAAEgJVzfD_BwE
-$355
Need help? Call 1800 753 293


Modern, Multi-functional Sofa Bed
The Ghia Single Sofa Bed is a stylishly modern sofa bed that brings together three different functional pieces - a single bed, a day bed or a sofa - into one compact sofa bed. A revamp of a mid-century modern classic, this sofa bed features a bolt-type backrest and plush seating with adjustable ends. The sofa bed is then paired with a set of attractive polished chrome legs for added style. This multi-seater sofa can comfortably seat two to three guests in different configuration thanks to its adjustable ends. With a wide selection of fashionable upholstery options, create a beautiful and multi-functional sofa bed that helps you expand your living space.
Comfort Features
This multi-functional sofa bed is packed with a variety of comfort features to let you do more with your living space. Its adjustable ends let you use the sofa as a love seat or as a day bed with a recliner function. To ensure optimum comfort and support, a system of pocket springs and high-grade foam is used for a truly enjoyable sleeping or sitting experience.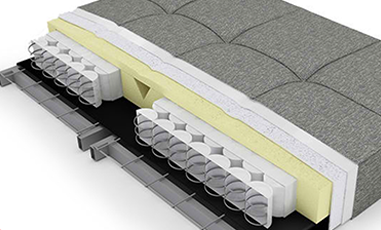 iStyle Pocket Spring Mattress
This sofa bed uses the iStyle Pocket Spring Mattress. This premium mattress system is made of a pocket spring core surrounded by layers of high-grade foam casing. The mattress is supported by a rigid metal frame for durability that lasts.
Transforms into a Single Bed
This sofa bed is a true space saver as it gives you a daybed, a love seat or a 3-seater sofa in one versatile piece. What's more, we can get to convert this multi-functional sofa bed into a comfortable single size pocket spring bed in a few seconds. With an easy-to-use 'click-clack' mechanism, simply adjust the ends of the sofa bed into the flat position in order to turn the sofa into a single size bed.
Measurement
Sofa
Bed
Depth
93 cm
93 cm
Height
68 cm
37 cm
Width
178 cm
210 cm
Sofa Seat Depth
54 cm

Maximum Supported Weight:
220 kg