Nirvana Custom Timber Bed Frame
Up to 10% OFF on Custom Timber Bed Frame, offer ends July 31, 2019
Up to 10% OFF on Custom Timber Bed Frame, offer ends July 31, 2019
$1,199
-10%
$1,079 https://www.bedworks.com.au/bed-frames/custom-made-beds/custom-made-timber-beds/650-nirvana-custom-timber-bed-frame.html

Superior Comfort and Quality

Great Price Guarantee
Australian Made, Hand Crafted
Need help? Call 1800 753 293
Find Your Nirvana In Organic Timber
Do you prefer the organic look of fine timber and the style of country simplicity for your bedroom decor? Then the Nirvana Custom Timber Bed Frame bed will be right for you. The Nirvana frame emphasises the natural beauty of quality timber providing an organic yet classic look with its feature headboard shwoing off the timber's grain. The simple rectangular design with the bed set on gorgeous truncated pyramid posts exudes sophistication and modern elegance in that quintessential country style. There's a choice of under-bed clear space options, and you can have your Nirvana timber frame made in Tasmanian oak or pine, all sourced from sustainable timber plantation stock. Available in 18 timber stain colours and with the option to have the mattress sit flush with the frame or sit inside for secure sleeping, this is a bed you'll find nirvana sleeping on!
Product Suite Options
This bed is handcrafted in Australia and also comes with a 2-year warranty. It's part of the Nirvana bedroom suite range, with tallboys, dressers, kid's beds and bases all available to order. But if it's still not quite the style or colour you're looking for, the Nirvana can also be customised to suit your particular decor. Just call our sales team today for a quote!
Speedy Delivery
All our custom timber bed frames are made in Australia in around 10 days from order - you'll have your new customised product at home in no time!
Product Notes: With mattress sitting flush the frame is 10cm narrower and 5cm shorter than with mattress sitting inside


'Your Best Bed is at Bedworks'
| | | | |
| --- | --- | --- | --- |
| Dimensions | Width (W) |   | Length (L) |
| Single | 102cm | x | 198cm |
| King Single | 117cm | x | 213cm |
| Double | 147cm | x | 198cm |
| Queen | 163cm | x | 213cm |
| King | 193cm | x | 213cm |
Head board height from floor: 90cm
Under-bed clear space: 20cm
Bed base clearance: 32cm
Mattress sit-in 2cm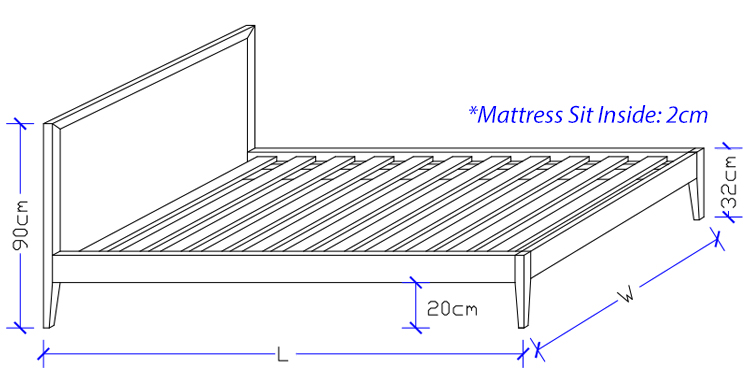 >Enjoy these Benefits
Classic timber quality design
Durable sturdy frame with mattress sit inside/flush
2-yr warranty on construction
Australian made - handcrafted in 10 days
Fully customisable options