Delivery

Australia-wide
Delivery
1
You place your order online
2
We process it and we contact you to arrange the delivery day
3
We call you one hour prior delivery to make sure you're home
Standard Delivery

Enter your Postcode for Standard Delivery Cost (Will be found on the product page before adding to cart)
Special Delivery

Surcharge will be applied for special requests. Call us on 02 9517 1711 for the quotes.
Door-to-Door Service 

We don't leave your items at your footpath. Our kind delivery drivers will help you put your purchase where you want. For a small extra fee they will also assemble your new bed and/or remove your old one.
Pick up in-store
No need to pay for delivery if you are happy to swing in and pick up your bed from one of our Sydney Stores.
Stanmore Store
(Order must be placed 24h in advance)
Greenacre Warehouse
(Pick up Mon - Sat from 11am to 2pm)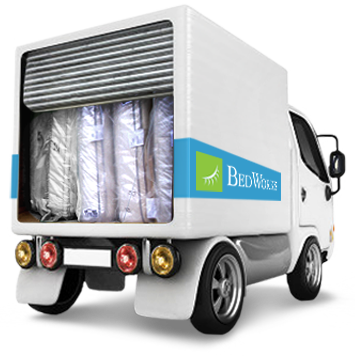 NEXT DAY DELIVERY
Next day delivery is only for the Sydney CBD area for products that are in stock when you make your purchase. All orders should be placed before 4pm the day before. Same Day Delivery is also available; however, there will be a surcharge depending on the area of delivery.
Standard delivery is based on postcode
Next Day Delivery: Only for products in stock - Call to check the availability and place your order before 4pm the day before. 
Same Day Delivery:  Extra $50 on top of the standard delivery fee for order placed before 12pm; after 12pm various fees will be applied depending on the time you request the delivery
After Hour Delivery: Extra $50 on top of the standard delivery fee (Sydney Metro areas only) - Delivery until 9pm. 
Book Your Specific Time (From 10am - 6pm, 2hrs window): $50 Extra
Professional delivery service
Furniture assembly available
Store pick-up also available
We are dedicated to continually providing first-class customer service. We pride ourselves on offering a friendly and customer-focused service so you have the peace of mind knowing you are always in safe hands.  
Note: Standard delivery time is from 10am to 6pm with 4hrs window and you can't pick a specific time. Our driver will call 1hr prior the delivery.