Paris II Custom Upholstered Bed with Recessed Ensemble Base
Bedworks's 15th Birthday Sale
Extra $50 off purchase +$1000, code EXTRA50
Extra $100 off purchase +$1500, code EXTRA100
Extra $200 off purchase +$2000, code EXTRA200
Bedworks's 15th Birthday Sale
Extra $50 off purchase +$1000, code EXTRA50
Extra $100 off purchase +$1500, code EXTRA100
Extra $200 off purchase +$2000, code EXTRA200
$1,799
-20%
$1,439 https://www.bedworks.com.au/bed-frames/custom-made-beds/custom-made-upholstered-beds/1858-paris-ii-custom-upholstered-bed-with-recessed-ensemble-base.html

Superior Comfort and Quality

Great Price Guarantee
Australian Made, Hand Crafted
Need help? Call 1800 753 293

Meet Me In Paris...
After a modern and sophisticated vibe to spice up your bedroom look? The Paris II Custom Upholstered Bed with Recessed Ensemble Base offers it all. This premium custom-made bed frame features a modern 120cm high headboard with pin cushion detail and double stitching, and is available in over 20 premium fabric colours. Meanwhile, the sit-flush ensemble base with 15cms clearance is recessed - meaning its legs are moved inwards to create a floating effect, reminiscent of the style and elegance of Parisian design. The recessed style base is also "toe-friendly" - the inward position of the legs prevents you stubbing your toe on the bed frame's legs! An interior designer favourite, this upholstered bed frame is sure to fit the bill and be a talking point amongst your family.
Quality Australian-made Construction
The Paris II is handmade by local Australian craftsmen using the finest locally-sourced materials and upholstery from premium Australian brands - Warwick and Zepel. With a 5-year construction warranty, this bed comes in the full range of standard frame sizes (see measurements below) and can also be customised on style, size and colour to suit your needs. Why not contact our sales team today for a quote - 1800 940 596.
'Don't Compromise, Customise'
Dimensions
| | | | |
| --- | --- | --- | --- |
| | Width (W) | | Length (L) |
| Single | 92cm | x | 205cm |
| King Single | 107cm | x | 220cm |
| Double | 137cm | x | 205cm |
| Queen | 153cm | x | 220cm |
| King | 183cm | x | 220cm |
| Super King | 203cm | x | 220cm |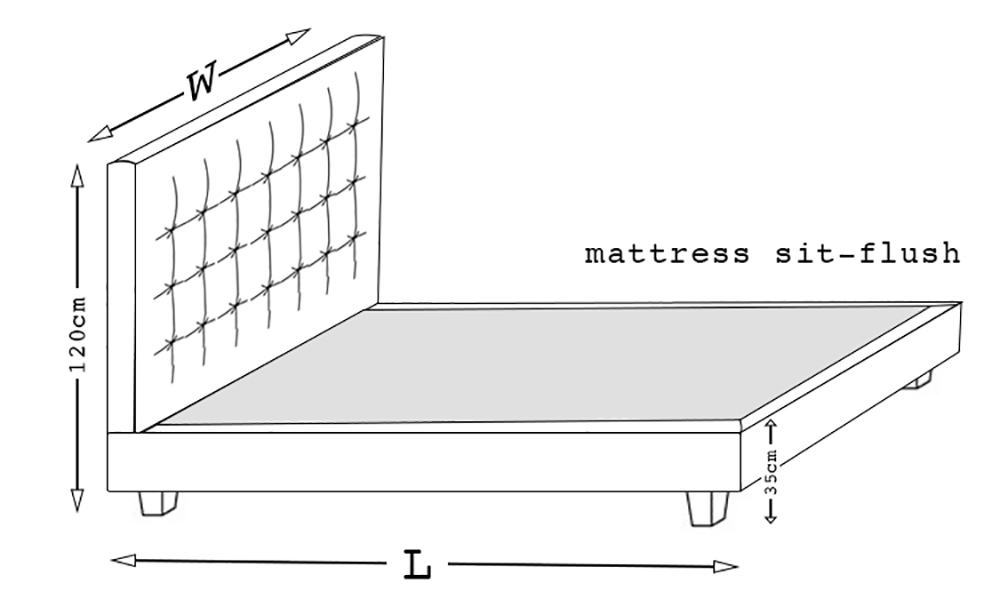 Enjoy these Benefits
Modern contemporary style with pin tuck headboard
5-yr construction warranty
Full range of fabric upholstery available
Recessed ensemble base, handmade in Australia
Fully customisable options

Buy Bedworks quality custom-made product, backed by our worry-free 5 years guarantee.
Base Dimensions
Select the base type to see dimensions
| | | |
| --- | --- | --- |
| | Width (W) | Length (L) |
| Single | 104 | 210 |
| King Single | 119 | 225 |
| Double | 149 | 210 |
| Queen | 165 | 225 |
| King | 195 | 225 |
| Super King | 215 | 225 |
| Headboard height (H) | | 120 |
| Clear Space | | 9 |
| Mattress sits in | | 5 |