Jasper Upholstered Drawer Bed
RRP $999 -$405
$594 https://www.bedworks.com.au/bed-frames/storage-beds/1855-jasper-upholstered-drawer-bed.html
-$405

Superior Comfort and Quality

Great Price Guarantee
Ample Storage Space
Need help? Call 1800 753 293
Stylish Contemporary Drawer Bed
The Jesper Upholstered Drawer Bed presents an uber chic vibe with its stylish comtemporary style. This deluxe drawer bed features a gorgeous panelled headboard with piping details and comes with natural oak coloured wooden legs for a striking contrast to the gorgeous grey upholstery of the bed. This modern bed frame comes with an extra spacious drawer at the foot end. This built-in drawer gives you added storage for a clean and clutter-free room. Meanwhile, this bed features a sit-inside base, thus making it compatible with any mattress types.
 Fine Quality Craftsmanship
This bed frame is a finely crafted bed that will last you for many years. Marvel at the exquisite craftsmanship, from the expert upholstering to the way each pieces are joined and connected. A series of durable wooden slats are used to ensure that you and your mattress are properly supported and protected for maximum comfort. Made with strong and durable materials, this drawer bed frame is a great investment piece for your bedroom.
 Dimensions:
 
Length
Width
King Single
227 cm
117 cm
 
Queen
227 cm
164 cm
 
Head Board 111 cm (H)
Clear Space 5 cm
Mattress Sit Inside 4 cm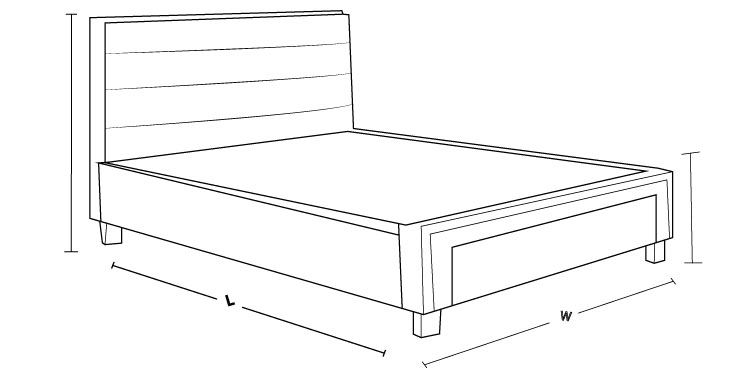 Enjoy these benefits:
Stylish drawer bed style
Panelled headboard with piping details
Spacious built-in front drawer
Premium Quality Craftsmanship
Great investment value