Noosa Upholstered Bed with Timber Frame - Queen
RRP $799 -$170
$629 https://www.bedworks.com.au/bed-frames/upholstered-beds/fabric-beds/1739-noosa-upholstered-bed-with-timber-frame-queen.html
-$170
Need help? Call 1800 753 293
Mid-Century Modern Inspired Bed Frame
The Noosa Upholstered Bed with Timber Frame evokes the exceptional quality sophistication of mid-century modern inspired interiors. This stylish bed frame features an upholstered headboard with tufting details. The bed is then complemented by a sit-inside timber base made from high-quality timber. The wooden base comes with slanted legs for added style. The combination of luxurious upholstery in the headboard and beautiful quality timber in the base brings together a timelessly sophisticated vibe that matches your interior style.
Fine Quality Craftsmanship
This contemporary bed frame is finely crafted to exacting standards. Marvel at the exquisite upholstery and the expert tufting of the headboard. Meanwhile, its base is carefully constructed and joined to create a stunning and durable bed frame that lasts. For added strength, a system of thick timber slats is used to provide long-lasting support to your mattress. A fusion of outstanding craftsmanship and stunning design makes this bed frame an excellent investment for your bedroom.
Dimensions
Queen     (L) 218CM     x     (W) 160CM   x    (H) 110CM
Under Bed Clearance - 15CM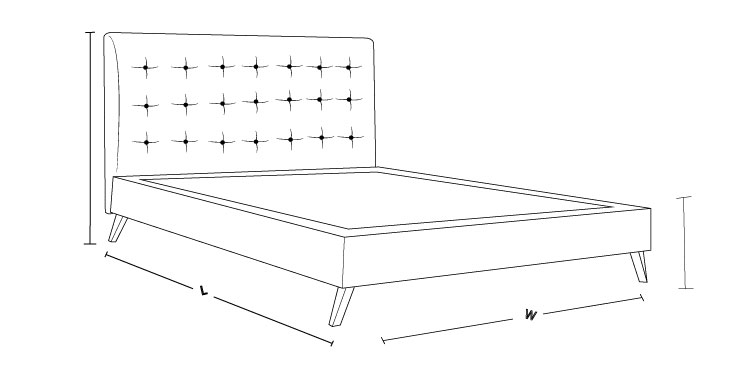 Enjoy these benefits
Mid-century modern inspired bed
A tufted headboard with a gorgeous timber base
Gorgeous timber base for a more contemporary twist
High-end craftsmanship
Great value for money
Get Next Day Delivery
All items in stock are eligible for Next Day Delivery for Sydney Metro Orders. Ask us if you can get your Noos Upholstered Bed with Timber Frame delivered to your bedroom tomorrow!