Noosa Upholstered Bed with Timber Frame
Enjoy Extra 10% Saving in EoFY Sale! code EOFY. Offer ends 30 June 2019
Enjoy Extra 10% Saving in EoFY Sale! code EOFY. Offer ends 30 June 2019
RRP $799 -$150
$649 https://www.bedworks.com.au/bed-frames/upholstered-beds/fabric-beds/1739-noosa-upholstered-bed-with-timber-frame-queen.html
-$150
Need help? Call 1800 753 293
New Style Horizons on Noosa
Love the look and style of fabric and timber together in your bedroom and want to create a feature piece with your bed? The Noosa Upholstered Bed with Timber Frame evokes the exceptional quality and sophistication of mid-century modern inspired interiors. This stylish bed frame features an upholstered headboard with tufting details a light beige linen-look fabric. The frame is available in three sizes: double, queen and king, and is complemented by a mattress sit-inside base made from high-quality timber. The wooden base comes with slanted legs for added style and definition. and the frame is covered by a 12-month manufacturer warranty. The combination of luxurious upholstery in the headboard and beautiful quality timber in the base brings together a timelessly sophisticated vibe, all offered at a truly great price. There's no reason not to update your bedroom with the Noosa!
Quality Craftsmanship Creates Contemporary Design
This contemporary bed frame is finely crafted to exacting standards. Marvel at the exquisite upholstery and expert tufting of the headboard. Meanwhile, its base is carefully constructed and joined to create a stunning and durable timber frame that lasts. For added strength, a system of thick timber slats is used to provide long-lasting support to your mattress. A fusion of outstanding craftsmanship and stunning design makes this bed frame an excellent investment for your bedroom. And there's also the option to add the 5-drawer tallboy to your bedroom to match your new bed frame!
Next-day Delivery
All bed frames in stock are eligible for next-day delivery to Sydney CBD and metro areas. Ask us if you can have your new Noosa Upholstered Bed with Timber Frame delivered to your home tomorrow!
Dimensions - bed frame
| | | | | | |
| --- | --- | --- | --- | --- | --- |
| External | Width (W) |   | Height (H) |   | Length (L) |
| Double | 139cm | x | 120cm | x    | 207cm |
| Queen | 155cm | x | 120cm | x | 207cm |
| King | 185cm | x | 120cm | x    | 207cm |
- Under-bed clear space: - 15cm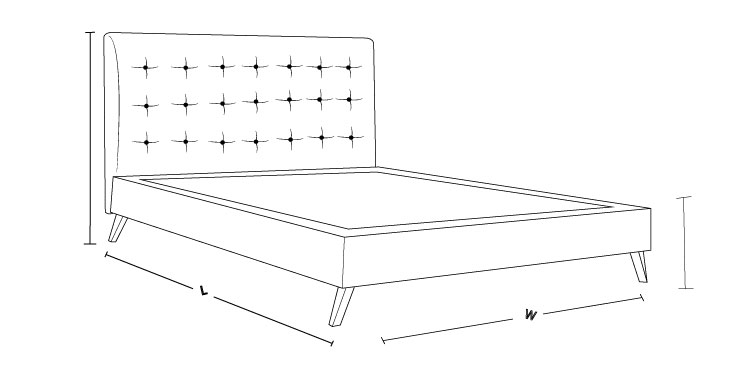 Dimensions - tallboy
| | | | | | |
| --- | --- | --- | --- | --- | --- |
| External | Width (W) |   | Height (H) |   | Depth(D) |
| 5-drawer tallboy | 85cm | x | 115cm | x    | 40cm |


Enjoy these Benefits
Mid-century modern inspired design
Tufted headboard with timber base on legs
Contemporary design twist with timber and fabric
12-month manufacturer warranty