1
2
3
4
5
6
7
8
9
10
11
12
 
Marvel at Deluxe Comfort of Dolce Vita
If you are after a premium foam 30cm mattress with Italian design heritage, look no further than the Magniflex Comfort Deluxe Dual 12, from the Dolce Vita line, available to custom order in the full range of sizes. Born from the inspiration of Italian design know-how using the latest in bedding product technologies, the Dolce Vita Deluxe Dual 12 combines Memoform, Elioform and Eliosoft foams under a viscose coating and Outlast® fabric encasement for a superior night's sleep and comfort beyond your experience. It's just like sleeping in the clouds! The dual core layer suport system means multiple sleepers won't have their preferred body positioning compromised on this mattress, which can be manipulated through the plate turning design (see specifications below).
Sold EXCLUSIVELY in Australia through BedWorks with a 12-year manufacturer warranty, contact our friendly sales team today to see how the Magniflex Dolce Vita range will make your night's sleep a dream!
Product notes: available to test instore, allow 6-10 weeks for international delivery on Magniflex mattress
'Invest in Your Best Rest at BedWorks'
Specifications
A. Coating
The Outlast® thermoregulator fabric creates a perfect microclimate during the night; the Viscose coating makes it even softer to the touch. This mattress is washable.
B. Padding
The Memoform padding perfectly adapts to the body's silhouette giving a pleasant sensation of lightness and relaxation.
C. Comfort 
The Dual Core system allows you to experience different degrees of comfor, simply by turning the plate of the mattress. The side in Memoform (5 cm) and Elioform (3 cm) for "soft" comfort gives a feeling of extreme comfort, enveloping but sustained. The side in Eliosoft offers "medium soft" comfort.
D. Base Plate
The Eliosoft plate (19 cm) offers optimal support of the spine and keeps the back in the right position. Thanks to its high density microcellular structure it gives a soft comfort that combines elasticity and transpiration.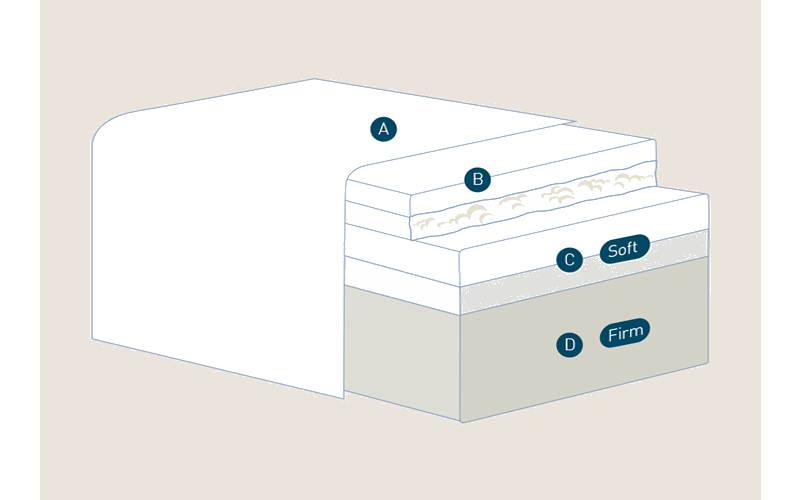 Dual Core System
The Dolce Vita mattresses are created with an innovative dual core system designed by Magniflex, to share the mattress space with your partner without compromising on body positioning or posture. The slab in the double version, consisting of layers of materials with different types of comfort, is composed of two separate parts that can be turned upside down and thus offer two different types of support.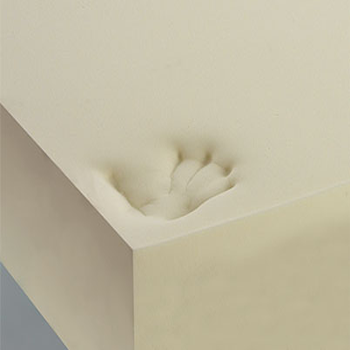 Memoform
Memoform is the most anatomical material and is designed to react to the weight of the body and to adapt perfectly to any silhouette. This layer filling offers a pleasant feeling of ease and lightness during rest and helps relax the spine.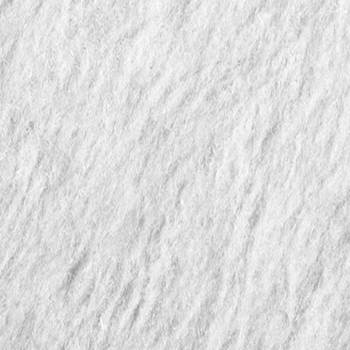 Viscose
Derived from cellulose, viscose is a soft techno-fibre with a silky texture and has an excellent ability to dissipate moisture.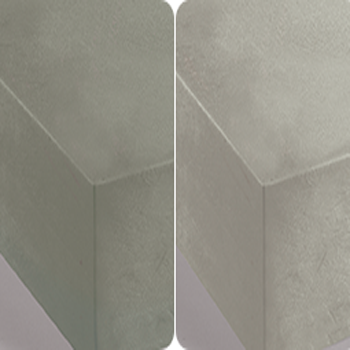 Magnifoam
This is a high-density microcellular structure that offers optimal support, elasticity and breathability to all sleepers. Available in two versions - Magnifoam Eliosoft (softer) and Magnifoam Elioform - the magnifoam will satisfy the needs of any sleeper.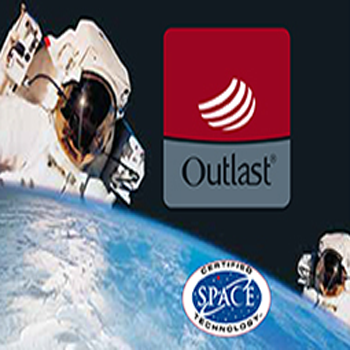 OUTLAST®
OUTLAST® is a thermo-regulating fabric originally applied to astronaut's space suits. The technology enclosed within it uses phase-changing materials - inside there are millions of spheres made with a special wax that melt at 36 degrees. As the body's temperature rises this technology acts, absorbing excess heat. When the temperature starts to fall, the spheres inside the material start to consolidate and release the accumulated heat. Ideal temperature regulation is achieved and increases the consistent comfort of your sleep.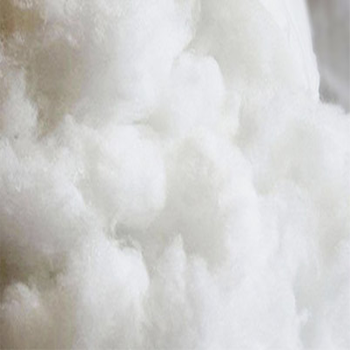 Super-Soft Fibres
Super-soft fibre padding has exceptional qualities of softness and breathability via its composition, giving sleepers a feeling of extreme well-being and improves the perception of comfort during sleep. Just like sleeping in the clouds!

Buy it with confidence - Enjoy the benefits of
10-year manufacturer guarantee.

Data sheet
Luxury Range

Yes

Anti Bacterial Qualities

Yes

Minimise Partner Disturbance

Yes

Composition

Memory Foam

Guarantee

10 Years

Mattress Thickness

30cm

Product Type

Mattress

Brand

Magniflex
Specific References
UPC

2210