Tropez Custom Low Timber Storage Bed
$1,333
-10%
$1,200 https://www.bedworks.com.au/bed-frames/custom-made-beds/custom-made-timber-beds/51-tropez-custom-timber-storage-bed-frame.html?gclid=EAIaIQobChMI5MqYqY7G3gIVQYqPCh0HZQ-JEAYYASABEgI6F_D_BwE

Superior Comfort and Quality

Great Price Guarantee
Ample Storage Space
Need help? Call 1800 753 293
Tropex is Tops For Storage
You can order the Tropez Custom Timber Low Storage Bed Frame with drawers that provide concealed storage space at your fingertips. These drawers are designed to suit the Tropez's timber nautical look, making them both stylish and sensible at the same time. Drawers include wheels at the base and are extremely easy to manoeuvre. The bottoms are glued and screwed and utilise 18mm thick bottom drawer supports for extra strength and longevity of up to 15 years. The frame itself comes self-assembled and has a 2-yr warranty. 
The number of drawers on each low bed frame are as follows:  
Double & Up: One large drawer on each side

Single & King single: One large drawer on your side of choice
Fully Customisable Options
The Tropez can be custom made to suit your specific requirements. You can get 2 drawers per side, drawers at the foot of the bed or no drawers at all - we specialise in delivering exceptional custom-made bed frames. The base is available in a full rnage of standard sizes and timber colour stains to suit your particular decor. Why not contact our sales team today for a quote? 
Dimensions
| | | | |
| --- | --- | --- | --- |
| Mattress Sit Inside 2cm | Width (W) |   | Length (L) |
| Single | 101 cm | x | 198 cm |
| King Single | 116 cm | x | 213 cm |
| Double | 146 cm | x | 198 cm |
| Queen | 162 cm | x | 213 cm |
| King | 192 cm | x | 213 cm |
| | | | |
| --- | --- | --- | --- |
| Mattress Sit Flush | Width (W) |   | Length (L) |
| Single | 92 cm | x | 188 cm |
| King Single | 107 cm | x | 203 cm |
| Double | 138 cm | x | 188 cm |
| Queen | 153 cm | x | 203 cm |
| King | 183 cm | x | 203 cm |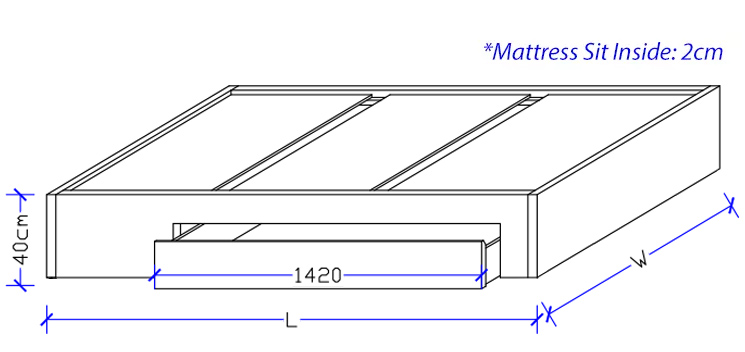 Internal drawer dimensions (Queen size, King Single and King):
Length - 1420 mm
Depth - 705 mm
Height - 180 mm
Internal drawer dimensions (Double and Single):
Length - 1200 mm
Depth - 705 mm
Height - 180 mm
Enjoy these benefits
Handcrafted in 10 days
Self assembled product
Simple elegance with practical style
2-yr warranty
Wealth of storage space
Neater, more spacious bedroom