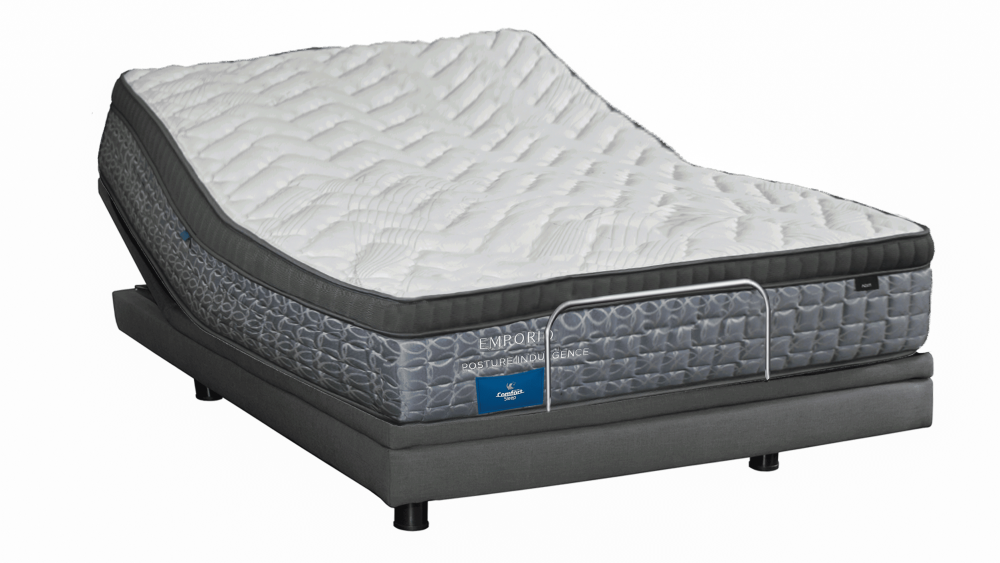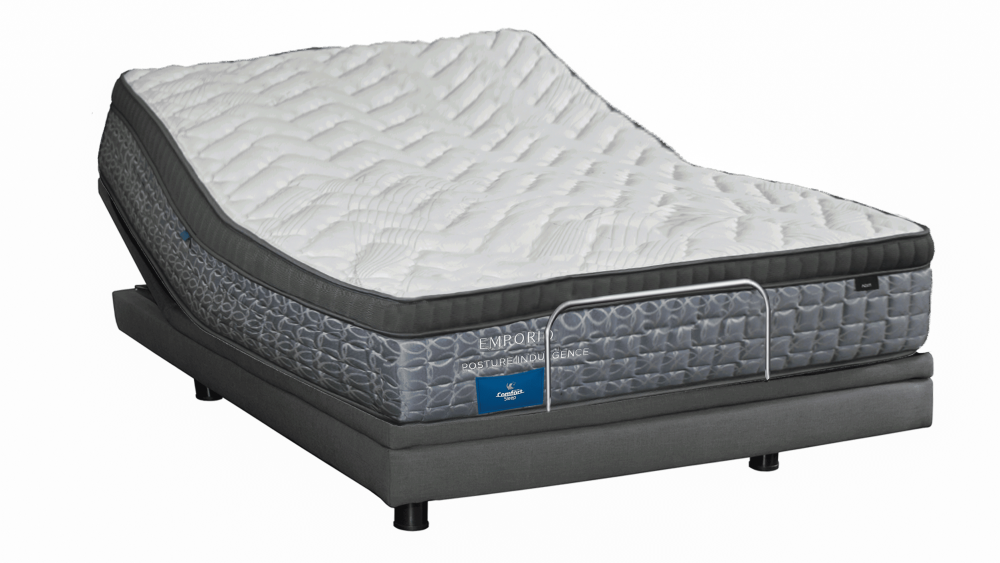 1
2
3
4
5
6
7
8
9
10
11
12
 
Reverie™ 7X Adjustable Base With Emporio Posture Indulgence Mattress
The Reverie 7X Adjustable base with  Emporio Posture Indulgence Mattress.
Discover the leading-edge technology that allows you to alleviate pressure on joints, ease lower back pain and can even help reduce snoring! Reverie™ 7X Adjustable Power Electric Base delivers full mobility with head and foot adjustability, preset and programmable positions and massage technology with ten intensity levels.
Enjoy the Reverie 7X adjustable base with a light under the bed so that those midnight bathroom visits won't be so dark - or bright!
The reverie 7X comes with a Pocket Spring Emporio Posture Indulgence Mattress. You can select the mattress between Firm, Medium, or soft feel.  
The Mattress combines two layers of HD comfort foam with different levels of firmness and the quality contour Tech. The mattress has a thick 5-zone pocket spring system, providing the perfect balance of comfort and support.  The posture indulgence offers body contouring and even weight distribution for ultima
If you like to have more detail about the posture Indulgence mattress, please click here
Pre-set & Programmable Positions
Choose your favourite position with three pre-programmed positions - Zero Gravity, Anti-Snore and flat. Do you want to store your favourite position? No worries! Create two unique positions with the Reverie 7X adjustable base!
Wireless Remote Control with Backlit function
The Reverie 7X power electric base adjusts with individual upper and lower body control for a fully customisable sleep experience. Use the Wireless Remote to control the head and foot elevation, massage and your other built-in functions. 
LED Night Light
No need to turn the lights on with the Wireless Remote features a premium backlit function, allowing the buttons to glow. 
Smartphone App
The Nightstand™ app function allows you to choose between your Bluetooth/wireless device and the Reverie remote. The app enables you to specify the precise angles for the head and foot platforms. (Just like the remote control) It also allows you to configure presets and implement alarms in your bedroom.
Massage Functionality
Divulge in the luxury of massage technology with independent head and foot control. Program your Reverie 7X power base to elevate the head with a massage in the mornings for a relaxing way to wake up!
3D Wave Massage
The Reverie 7X provides a sophisticated massage compared to other options on the market. The Reverie 7X utilises 3D waves that create directional motion, thereby ensuring better blood flow optimisation and relaxation. The benefit of the 3D waves allows for the mechanism to allow for better blood flow optimisation resulting in a relaxing and rejuvenating rest.
Due to the 3D waves, the directional massage allows the mechanism to be near-silent, perfect if you fall asleep to the massage feature or share a room with a partner. 
The 3D-Wave™ massage technology with independent head and foot controls, two wave models and ten intensity levels. 
Wall Snuggler®
A bespoke feature exclusive to Reverie, the wall-hugging mechanism simultaneously lifts you. It glides you back as you adjust so that you don't move farther away from your bedside tables and the items you have placed on top are within reach.
Whisper Quiet
Silently adjust your base without disturbing your partner, kids or pets! With Reverie's 7X power base, control the elevation of your bed in near silence.
Simple Set-up!
Secure your mattress the easy way. It features a single easy-click centre retainer bar that secures your mattress into place.
Safety First!
The Reverie 7X base has a 385kg weight capacity and an automatic safety stop upon weight overload. In the event of a power loss, the Reverie base also has a power-down feature.
Warranty
10-year limited warranty. Five year-parts. Ten year-frame.
Specifications:
Deck-on-Deck design.

3-in-1 leg design for customisable bed heights. (21cm, 13.5cm, 8cm)

Fits most modern bed frames and headboards.

Made in Taiwan, Imported from the USA. 
5 Health Benefits of Massage
Some might shy away at the mention of massage or make a remark about motels and quarters. Here are 5 proven health benefits that our massage function can provide.

1. Fall asleep faster
A massage is a good option if you're looking for a natural, pill-free approach to better sleep. 57% of participants in a Michigan State University study found that the 3D-Wave™ massage helped them fall asleep more easily.

2. Increase Circulation
3D-Wave™ Massage is like an ocean with waves—it utilizes resonant frequency to create a circular motion that stimulates blood flow. This option is great for mornings, helping to get the blood flowing after a night of rest and immobility.

3. Stick to a Bedtime Routine
One of the best ways to improve your sleep is to stick to a consistent sleep schedule. With Reverie®, you can automatically set a timer for a massage before bed while you watch your favourite show or read a book. After 30 minutes, the massage shuts off and cues you to turn off the lights—the perfect wind-down routine.

4. Have More Energy During the Day
In the MSU study, the majority of participants reported a better mood upon waking up and more daytime alertness, rating 35% higher than those who did not use the massage prior to sleep.

5. Relieve Sore Muscles and Swelling
The combination of raising the feet and turning on massage is great for those who stand on their feet all day, experience swollen feet, or anyone who is a frequent exerciser. 47% of study participants found relief for
sore muscles, and raising the feet above the heart is quick and easy relief for swollen feet and ankles. 

Data sheet
Luxury Range

Yes

Minimise Partner Disturbance

Yes

Orthopedic

Yes

Guarantee

10 Years

Benefits

Bluetooth/ Wi-Fi

Product Type

Adjustable Bed

Brand

Reverie
Specific References
ean13

5202827183481

UPC

2210