Domino Essentials Dynasty Firm Mattress - A.H. Beard
Win a Better Sleep Pack and share in $120,000 of prizes, including the main cash draw of $50,000, in AH Beard's 120th birthday sale. Offer ends November 25, 2019
Win a Better Sleep Pack and share in $120,000 of prizes, including the main cash draw of $50,000, in AH Beard's 120th birthday sale. Offer ends November 25, 2019
RRP $899 -$270
$629 https://www.bedworks.com.au/mattresses/mattresses-by-type/eco-friendly-mattresses/1088-domino-essentials-dynasty-firm-mattress.html
-$270
Need help? Call 1800 753 293

Not sure how this Mattress will feel?
Relax, we have got you covered with our 100 day risk free trial! Test out your new mattress in the comfort of your own home. If you are not 100% satisfied, simply send it back for replacement. T&C Apply
Comfort To Depend On
Enjoy the highest quality comfort with pillow top layers of Performa Foam, Stretch Knit Fabric and Ultra-soft Quilting. Performa is the ultimate partner to Domino's other ingredient latex. Together these layers help relieve built-up tension from aching joints and tired muscles while enhancing overall comfort and appeal.
Superior Support for Correct Sleep
The position of your spine while you sleep is critical to your health - when abnormal stress is placed on your spine, tension may be caused in adjoining ligaments and muscles. Conforma coil provides increased support and endeavors to promote correct sleeping posture for better all-round health. The 3-Zone graduated spring tension of the Dynasty firm mattress provides even more support so your health is always being looked after.
Eco-Friendly Design
The Domino Dynasty Firm mattress protects you against dust mites, mould and bacteria ensuring a healthy sleep environment. You can rest assured you're sleeping in a bed that is made with both the environment and sustainability in mind. Suitable for all seasons the Dynasty promotes breathability and regulates body temperature.
Performa Edge –to- Edge for Extra Support
The Performa™ Edge Support Technology means you can utilize the full length and breadth of your mattress, meaning a larger sleep surface for a better night's sleep.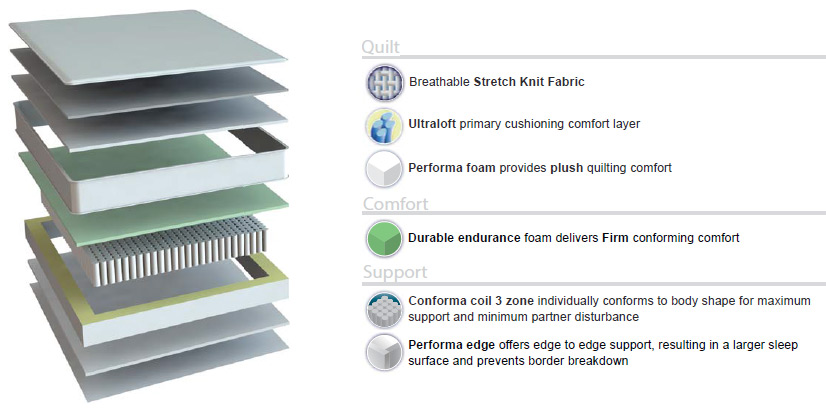 Australian-made Quality Product
Rest easy knowing the Domino Essentials Dynasty Firm Mattress is an Australian made and owned mattress so you can experience quality you can trust.